Daniele De Rossi retired from his club career in early January of this year. Even though being one of the greatest admirers of Manchester United he has turned down their offer. The reason behind this denial is he felt United has strong midfield with Roy Keane and Paul Scholes where his presence is not needed. Meanwhile, in Boca juniors, his presence is needed and it was a better platform to play his game. He has played more matches for Roma during his career with 600 appearances he has become an important part of the club.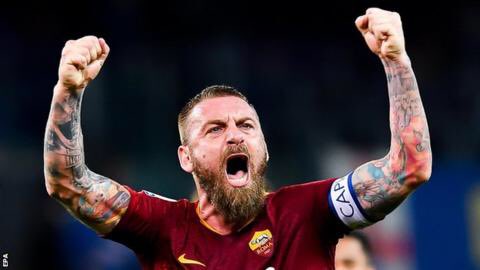 The Italian footballer has only played for two clubs during his period in football. In this, he has spent nearly two decades with Roma. He wanted to play for United and the offer was tempting to him. But the club already had world-class talent and his presence there was not needed. He was not interested in leaving Roma but his time in Boca he felt like a god.
He said, "It was the right choice that I didn't go to Manchester because there were
Keane and Scholes
, incredible players. It was really my desire to go to Boca Juniors. I never chose to leave Roma, but I felt like a god at Boca."
In the interview, he was joined by his former colleague Leonardo Bonucci who had a video message for him. While talking about his times with Bonucci, people think that he has an arrogant character but it is not so. He says that Leo is a very likeable personality but it is a disappointment that people don't think so.
Bonucci can be irritating during the game but it is the façade he has been bestowed upon as he plays for Juventus. He remembers a bitter moment of their friendship where he threw a boot at him which caused major trouble between them. Rossi can only remember his time with Bonucci as a happy and pleasant one.